Support Our Mission
"To inspire and prepare young people to succeed in a global economy." – mission of Junior Achievement

Since 1940, Junior Achievement of Chicago has been serving students of the Chicagoland area, across 12 counties, by giving them the knowledge and skills they need to own their economic success and plan for their futures. Utilizing programs that focus on three core content areas – work readiness, entrepreneurship, and financial literacy – JA of Chicago is positively impacting the lives of over 600,000 students each year with proven results. We are proud to be part of the nation's largest organization dedicated to financial literacy, reaching over 4.8 million students per year on a national level, and we are proud to be preparing the youth in Chicago for a successful future.

You have the power to transform a student's life through Junior Achievement! In considering a planned gift, you have the opportunity to create a gift that will sustain our mission into the future, helping us to reach more students each year and ensuring that students in Chicago continue to benefit from JA's programs for years to come.

Benefits of Giving
Many planned gift options can provide substantial benefits to you, including tax advantages or a steady income stream for you or a loved one. Simultaneously, you also have the satisfaction of knowing your gift will provide crucial support for the continued success of Junior Achievement. Depending on your preference, it is also possible to designate your gift to the general funding of JA programs, or you can specify that your gift be used to support the continued presence of JA in certain communities.

With the help of your advisor, you can create a gift that fits your needs, and helps meet the needs of Junior Achievement. In choosing a planned gift, it is possible for you, your loved ones, and Junior Achievement to all benefit.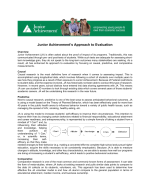 JA Program Evaluation