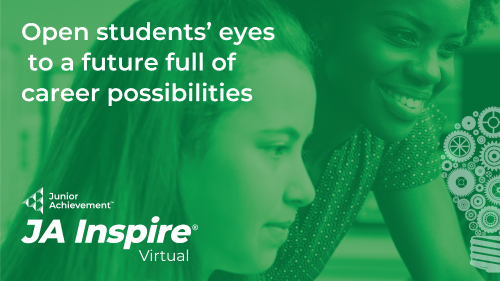 Please Join us on Tuesday, April 13, 2021
JA Inspire Virtual is a coalition of educators and industry leaders, led by JA of Chicago. At the center of our work is a powerful virtual career exploration event that will be massive, measured in student engagement and impact. We invite educators to register their students for this event, and we offer companies and organizations the opportunity to sponsor exhibit booths for students to explore future career options.
Sponsorship Information:
JA seeks sponsorship to cover the cost of providing JA Inspire Virtual for students. Sponsors will fund student participation as well as help provide videos, photos and career information about your company. After the initial event, students will be able to access JA Inspire Virtual 24/7 for a 3-month period as they continue their career planning.
Why JA Inspire Virtual? Students will begin their exploration with mostly abstract notions and will end up focused and activated, with real insights on what industries interest them, what specific jobs are like, and what education is required to do them successfully. Not all students receive career mentorship at home. For businesses, this is a chance to build your future workforce.
For a virtual tour of the JA Inspire platform, click here to view our sponsorship video. It will give you an idea of what JA Inspire is and how you, as a sponsor, will be able to showcase your company to the students who will be participating.
For more information about sponsorship opportunities, check out our sponsorship flyer or reach out to Derek Ernst at dernst@jachicago.org.
Educator Information:
Available at no cost to educators, or your students, JA Inspire Virtual is adaptable for in-class or remote learning! Students will be introduced to careers in the following six industry categories, otherwise known as career clusters: Manufacturing, Financial Services, Business Management, Education, STEM, and Law and Government. These categories will be arranged into "halls" for the students to navigate through and visit different company booths. Students will have the opportunity to visit as many booths as they would like!
This is a great opportunity for your students to speak with local business professionals and explore many different types of careers. Your students will have the chance to visit virtual career booths, download information to learn more about careers they are interested in, and watch webinars on topics like leadership, diversity and inclusion, personal branding and more!
For a virtual tour of the JA Inspire platform from one of our partner JA areas, click here to view a tutorial. While JA of Chicago's will look a little different, this will give you an idea of how the virtual career fair will be set up for students.
For more information about bringing JA Inspire Virtual to your class, check out our educator flyer or reach out to Roz Malouhos at rmalouhos@jachicago.org.
Click Here To Register Your Class