JA Finance Park Chicago Virtual®

This program is administered by JA of Chicago
Implementation:
JA Capstone
Pillars of Student Success
Financial Literacy
High Financial Literacy
Work Readiness
Moderate Work Readiness
Entrepreneurship
Minimal Entrepreneurship
Program Overview
This program, comprising a curriculum and a simulation, helps students in grades 7–12 build a foundation on which they can make intelligent financial decisions that last a lifetime, including decisions related to income, expenses, savings, and credit.
There are two levels of content available for JA Finance Park: Entry Level and Advanced. The topics and concepts track closely with national financial literacy standards and are intended to prompt students to begin thinking about and planning for their financial future. This educator-led classroom curriculum culminates with a visit to JA Finance Park, a realistic on-site or mobile facility, or virtually in the classroom, where students engage with volunteers and put into practice what they've learned by developing a personal budget.
In the Entry Level curriculum geared toward middle school students (grades 7–8), a minimum of 13 lessons are offered in either a traditional classroom presentation format or a project-based learning (PBL) format. The Entry Level curriculum includes the following units: Income, Debit and Credit, Savings, Investing and Risk Management, and Budget+. Both traditional or PBL formats provide educators a method of delivery that will best meet the needs of their students. Additional extension activities are available for each lesson topic.
The Advanced curriculum gives high school students (grades 9–12) a more personal focus. While it is not mandatory for students to have completed the Entry Level curriculum of JA Finance Park Virtual to have success with the Advanced curriculum, it is advisable that students have background in the following financial literacy concepts before participating in the Advanced curriculum: Earning and Income; Financial Goals; Insurance; Spending and Saving; Credit; Investing.
Program Concepts
Banking, Benefits, Budgets, Buying, Careers, Choices, Consumers, Credit, Debt, Exchange, Expenses, Income, Interest rates, Investments, Government, Money, Needs, Opportunity costs, Risk, Salary, Saving, Savings, Scarcity, Social Security, Taxes, Wages, Wants
Skills Students Learn
Active listening
Analysis
Applying information
Brainstorming
Budgeting
Cause and effect
Charting
Comparing
Computation
Critical thinking
Data collection
Decision making
Filling out forms
Following directions
Graphing
Interpersonal communication
Interpreting data
Listening
Math computation
Negotiation
Observation
Planning
Problem solving
Reading
Research
Role-playing
Self-reflection
Spending
Taking responsibility
Teamwork
Writing
Verbal communication
Alignment with State and National Standards
Request a Presenter to Teach Curriculum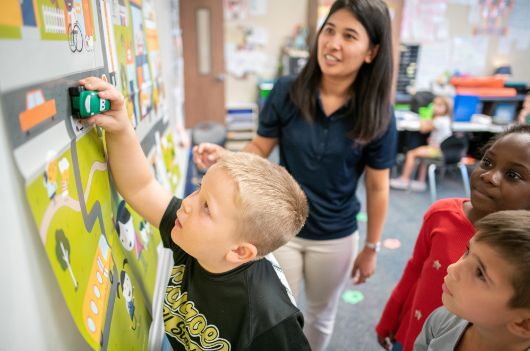 Junior Achievement lessons are delivered by volunteers from the community. These presenters are prepared by JA to facilitate engaging learning activities that focus on financial literacy, work and career readiness, and entrepreneurship. This results in an enriched learning experience that helps students make the connection between what they learn in school and the world outside the classroom.
Steps to Request a Presenter

1) Request Info
Once you've decided to have a JA volunteer in your classroom, fill out the form on this website. You will receive information on next steps.
2) Pick Schedule
You will be able to coordinate a schedule that works for your class either online or in conjunction with a JA representative.
3) Meet Presenter
Once a volunteer is identified for your class, JA will connect you with the presenter to discuss roles, expectations, and logistics.
4) Empower Students with Standards-Based Education
After all details are in place, the JA volunteer will deliver lessons to your students either virtually or in-person.
We use cookies to provide you a personalized experience. How we do this is by analyzing user behavior on our site and sharing data with our advertising and analytics partners. You consent to our cookie policy if you continue to use this website.