JA Reverse Job Show Blended Model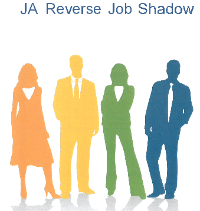 This program is administered by JA of Chicago
Implementation:
Classroom Based
Pillars of Student Success
Entrepreneurship
High Entrepreneurship
Work Readiness
High Work Readiness
Financial Literacy
Minimal Financial Literacy
JA Reverse Job Shadow (JA RJS) provides a unique and meaningful experience for students that will help them explore future career aspirations and tie the importance of education and training with real-life experiences from a volunteer's perspective.
The Program is recommended for Middle and High School Students (Grades 6 -12) and has three components, each 45-60 minutes in length, in order to offer the most meaningful career readiness knowledge and skills:
Pre-Event Activities (choose at least 1 activity)
Recognize career clusters and conduct research on specific fields that match their skills and interests.
Utilize online career exploration tools to assess how interests and talents align with specific career options.
Create infographic profile to illustrate personal brand.
JA Reverse Job Shadow Event (required)
Attend Career Presentation(s) and Discussion(s) by JA Volunteer(s) and learn about a variety of fields and businesses.
Reflect on knowledge gained from career presentation and develop personal action plan.
Post-Event Activities (choose at least 1 activity)
Craft and present elevator pitch to promote self to potential employer.
Prepare resume and cover letter using online tools and resources.
Recognize and practice professional interviewing skills.
JA teachers and volunteers are encouraged as part of this program to implement the Student Activities which can be easily downloaded, as well as the optional Career Exploration Online Tools and other Resources at www.jamyway.org to enhance the skills students need to compete in today's job market.
JA volunteers are provided with support and training prior to their JA RJS Presentation, including tools and resources, presentation templates, example hands-on activities and demonstrations to engage students, and tips and suggestions for the classroom setting. JA staff will work closely with volunteers to ensure that they are well-prepared and trained for the most meaningful student experience on the day of the presentation.
JA Programs correlate to state social students, English, and math standards, and to Common Core State Standards.
Students who participate in the JA RJS experience will have a stronger conviction in what career they would like to pursue. Students will be more knowledge about "high growth careers" in today's global economy. Students will have a better idea of what employers are looking for in an employee. Students will be more inspired to achieve their career choice. Students will have a better understanding of how their education relates to future career aspirations.
Program Concepts
Career assessment, Career clusters, Career planning, Cover letter, Elevator pitch, High-growth jobs, Infographic profile, Interests, Job hunting, Job interview, Job outlook, Personal action plan, Personal brand, Resume, Skills, Soft skills, STEM, Technical Skills, Workplace skills
Skills Students Learn
Analyze and apply data
Business communication
Collaborative discussions
Creativity and innovation
Decision making
Follow written instructions
Formulate answers from personal experience
Goal-setting
Identify behaviors
Interpersonal skills
Interviewing
Oral and written communication
Organize information
Present information
Read a variety of sources for information
Research skills
Role-play
Self-assessment
Work collaboratively
Working in groups
Alignment with State and National Standards
Request a Presenter to Teach Curriculum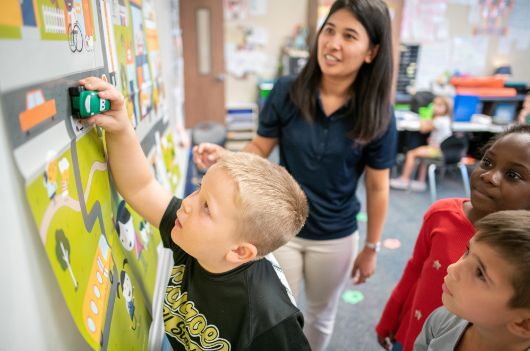 Junior Achievement lessons are delivered by volunteers from the community. These presenters are prepared by JA to facilitate engaging learning activities that focus on financial literacy, work and career readiness, and entrepreneurship. This results in an enriched learning experience that helps students make the connection between what they learn in school and the world outside the classroom.
Steps to Request a Presenter

1) Request Info
Once you've decided to have a JA volunteer in your classroom, fill out the form on this website. You will receive information on next steps.
2) Pick Schedule
You will be able to coordinate a schedule that works for your class either online or in conjunction with a JA representative.
3) Meet Presenter
Once a volunteer is identified for your class, JA will connect you with the presenter to discuss roles, expectations, and logistics.
4) Empower Students with Standards-Based Education
After all details are in place, the JA volunteer will deliver lessons to your students either virtually or in-person.
We use cookies to provide you a personalized experience. How we do this is by analyzing user behavior on our site and sharing data with our advertising and analytics partners. You consent to our cookie policy if you continue to use this website.